Alright, let's dive into the intriguing world of the dark web, where anonymity is the currency and where the law struggles to reach. Today, we're talking about the rise and fall of AlphaBay, a darknet marketplace that became a hub for illegal activities, and its enigmatic founder known as Alpha02. This story is a rollercoaster ride of crime, technology, and international intrigue, so buckle up!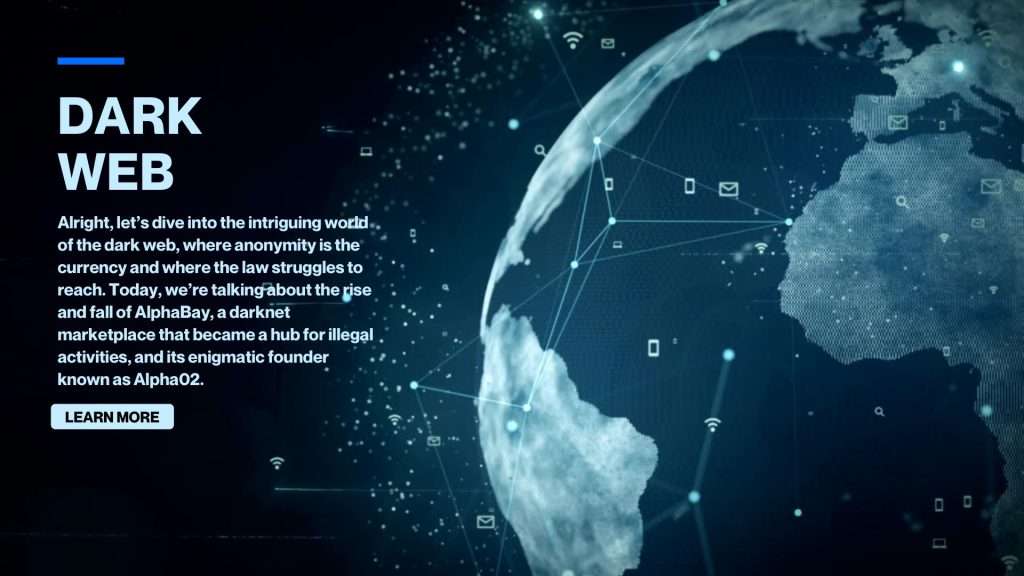 In the early 2010s, the dark web was gaining momentum, thanks to the promise of anonymity and the advent of Bitcoin. The Silk Road was the first to gain notoriety, but it was shut down, and its founder received a life sentence. This vacuum led to the emergence of several other darknet markets, including AlphaBay, founded by a man who went by the pseudonym Alpha02.
AlphaBay started small, initially dealing in stolen credit card data. But it quickly expanded its offerings to include drugs, weapons, and even money laundering services. Alpha02 was meticulous, ensuring that the platform was user-friendly and secure. He even implemented a tumbler to blur transactions, adding an extra layer of anonymity. Within a year, AlphaBay had over 200,000 registered users and 40,000 sellers. By 2017, it was making over half a million dollars in sales every day.
Alpha02, whose real name was later revealed to be Alexandre Cazes, was living a life of luxury in Bangkok, Thailand. He had multiple properties, drove expensive cars like a Lamborghini, and seemed to have it all. But little did he know that international law enforcement agencies were closing in on him.
The breakthrough came when an anonymous tipster provided an old welcome email from AlphaBay that had mistakenly included Cazes' personal email address. This led investigators to his social media profiles, and eventually, to his location in Bangkok. The operation to capture him was meticulously planned. A staged car accident outside his home lured him out, and he was arrested. His laptop was found unlocked, providing authorities with all the evidence they needed.
However, the story takes a dark turn. Just a week after his arrest, Cazes was found dead in his cell, an apparent suicide. With his death, the reign of the King of the Dark Web came to an end. But the story doesn't stop there. Authorities had also taken control of another darknet market, Hansa, and were using it as a honeypot to gather data on other criminals. When AlphaBay was shut down, many users migrated to Hansa, unknowingly walking into a trap. This led to a massive crackdown on darknet activities.
So, what's the takeaway? The dark web is a complex ecosystem that serves as a double-edged sword. While it can be a haven for criminal activities, it also provides a necessary space for whistleblowers and journalists. The game of cat-and-mouse between authorities and darknet operators is far from over. New markets have emerged, and the cycle continues.
If you found this story as gripping as I did, don't forget to commert, like, and subscribe for more captivating tales from the tech world and beyond. Until next time, this is Alvin, signing off.
Tags: Dark Web, AlphaBay, True Crime, Cybersecurity, Tech News
Meta Description: Unravel the captivating story of AlphaBay, the darknet marketplace that became a hub for illegal activities,