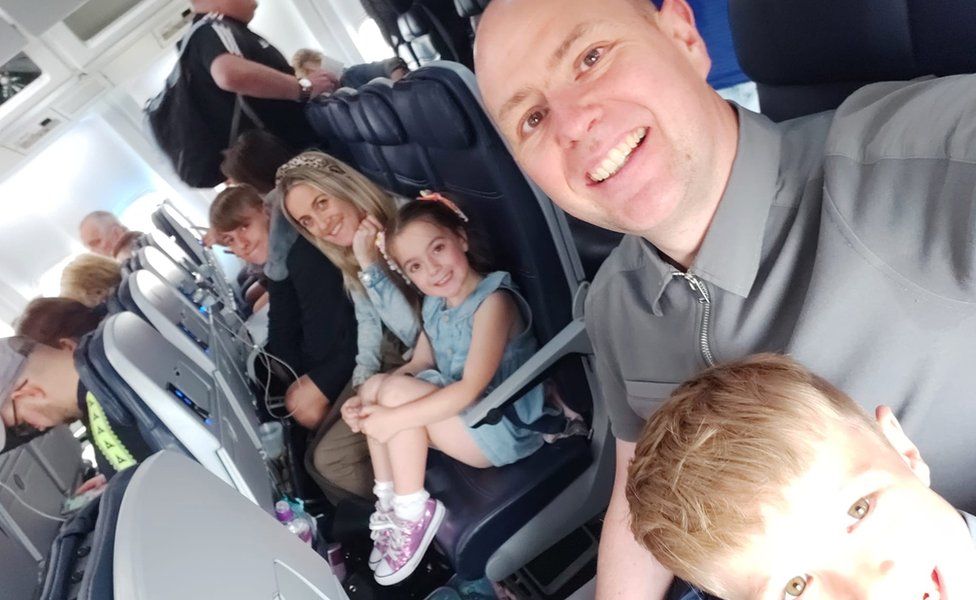 More than 30,000 people face disruption to their half-term travel plans over the next week, after airlines cancel dozens of flights.
For some holidaymakers, it will be their first chance to get away since the pandemic hit more than two years ago.
Some told the BBC of their heartbreak and anger.
Rob Gore spent 14 hours at Manchester Airport on Friday.
He had planned to fly to Turkey with his family for his sister-in-law's wedding, but his flight was delayed.
After hours of waiting, he and his family finally boarded a plane – only to be ushered back off it at the last minute.
"When the news was announced on the plane by the pilot the kids just burst into tears," he said.
The pilot said they had run out of hours they were able to work, so everybody had to disembark, he said.
"It was just an absolute farce from Tui, no reps available until right at the very end," he said, describing his treatment as "disgusting".
The trip would have been Rob's first since he began receiving cancer treatment.
"My heart goes out to our kids," he says. "It's their first holiday in three years, especially after the pandemic. They've been heartbroken."
After two nights in a Manchester hotel, he's hoping to fly out Sunday in time for the wedding on Monday. "But nothing's concrete," he said on Saturday afternoon.
Tui said it has apologised to those impacted by the cancelled flight, adding it contacted customers as soon as possible and offered overnight accommodation, meals and refreshments while they planned a new flight.
Fred Toon was due to fly from Gatwick to Menorca in Spain on Saturday with his wife, three children and his wife's parents.
Half an hour before they were due to board their flight was cancelled.
"It would have cost us more than £4,000, which I know you can claim back from the airline, but we haven't got £4,000 to go out of the account to buy the tickets," Fred said.
"It's heart-breaking to see all the children crying. It wasn't just my children – there were probably 20 to 30 different families with their children crying."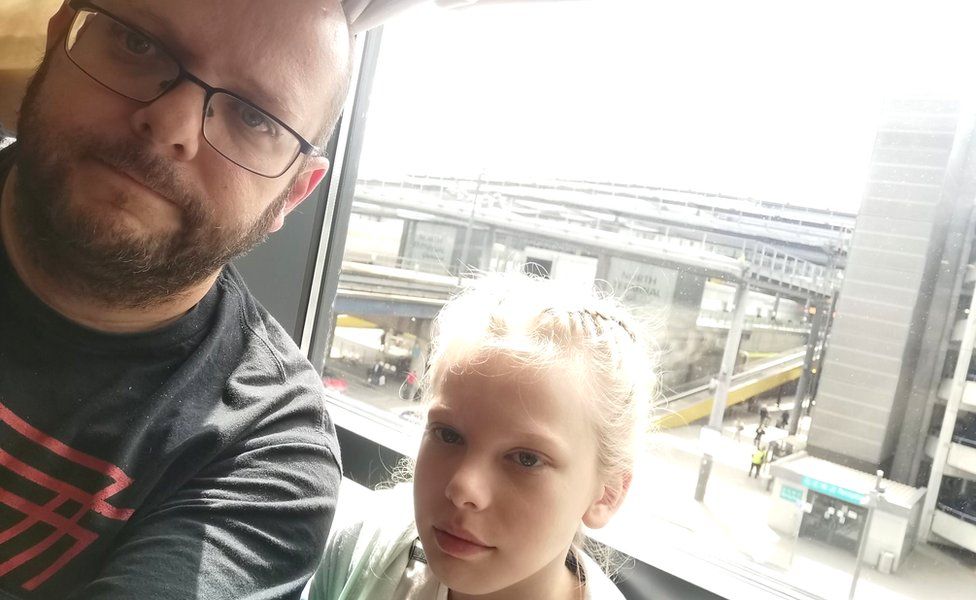 After his flight was cancelled, he said staff told him to manage his booking online.
But the only flight on offer was on Thursday – and his accommodation was booked from Saturday to Saturday.
"They were no help whatsoever. It was getting quite heated down there. Emotions were running very high," he said.
In Manchester, Jo, who did not give her last name, had her Tui flight to Greece delayed on Friday.
She said the airport was running out of supplies for all the delayed passengers: "It was like the start of the pandemic – people were panic buying drinks."
The restaurants and shops "couldn't deal with the capacity. Families had no nappies, no vouchers, no water," she added.
EasyJet and Tui have apologised for the disruption, blaming a number of issues including air traffic restrictions and runway works.


social experiment by Livio Acerbo #greengroundit #travel #tours – original source here