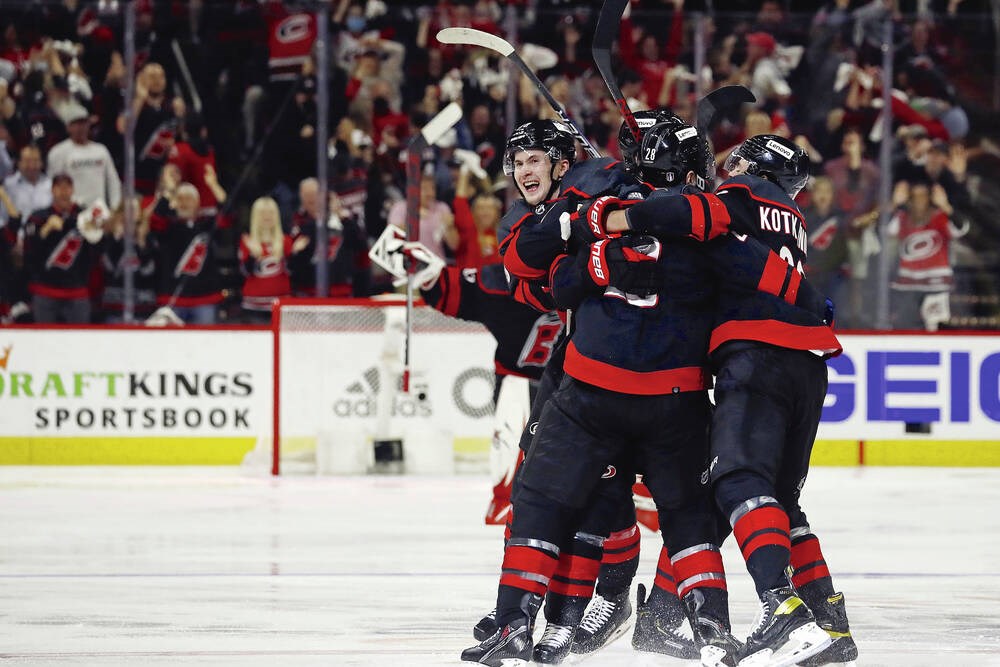 Never thought I'd miss the beer commercials during the hockey game.
Have to say this, though: at least the I! Am! Canadian! guy only pandered to misplaced patriotism, and didn't non-stop nag me to place a bet every time the whistle blew.
This has been the defining feature of this year's Stanley Cup playoffs: a tsunami of gambling ads. Feels like you can't go five minutes without being reminded that you're not having as much fun as the cool kids if you don't drop a few bucks, or perhaps the money for grandma's iron lung, on some online sports book or gambling app.
It's at the point that we dread seeing Connor McJesus go offside, not because of the interruption in play but because it means having yet another pitch for Betrivers.ca, or Bet365, or Draftkings, or Fanduel, or whoever shoved down your pie hole.
This goes back to Canada's decision to make single-game betting legal as of last year. Provincially owned gambling companies such as the B.C. Lottery Corp. took advantage of that, but in April Ontario began licensing private-sector online wagering sites, too.
That Ontario move is why your screen is suddenly awash in those commercials. ("It's not just that we're getting inundated with gambling ads during the hockey game," tweeted Ian Hanomansing, "but as we're watching here in B.C., they're ads for gambling in Ontario.")
Why last year's change? The federal government, with the support of all four main parties, argued that Canadians were already blowing billions betting on single games, but with the money flowing to Vegas, illegal bookies and potentially shady foreign sites. Better to legalize it, keep the money at home.
The B.C. Lottery Corp.'s online site explains it like this: "Previously, the only sports bets legally permitted in Canada were those requiring a 'parlay' — meaning players must wager on the outcome of at least two different events.
"As such, Canadian players were making single-event sports bets on unregulated gambling websites that don't provide jobs nor revenue that benefit our provinces. As a regulated website, PlayNow.com is all about protecting you, the player, whether it's through stringent security features or safeguards and tools to support healthy play."
The lottery corporation made raking in your cash sound like a noble mission, though it stopped short of nominating itself for the Order of Canada.
The better-us-than-the-bad-guys rationale gives elected officials a good argument, or at least a convenient one. It was first used by B.C. politicians a century ago when they ended Prohibition (and bootlegging) by creating the system of government liquor stores we still have today. We'll use the money to build schools, hospitals and $789-million museums, they said.
Gambling, which lives on the shady side of Morality Street, was allowed to exist because it paid for good works. When government got into the lottery business 40 years ago, the profits all went (at least for a while) to amateur sports, recreation and culture. Before BCLC was tasked with running things in 2002, community groups competed with each other to volunteer at (and get money from) B.C.'s commercial bingo halls. (Some of us are still lightly buzzed from the dauber ink.)
Politicians have long wrestled with this golden goose's down side (as it were). Remember, the casino that opened in View Royal in 2001 only ended up there after Victoria city council voted against allowing slot machines in the city proper. The decision, which led to the demise of a small casino on Douglas Street across from the Mayfair Shopping Centre, meant that only West Shore municipal governments now get a cut of the casino revenue.
It was also in 2001 that the B.C. Liberals were elected on a platform that included a promise to "halt the expansion of gambling that has increased gambling addiction and put new strains on families."
Apparently, those families were doing just fine by the time the Liberals actually took office, though, because the new regime grew the sector faster than Harry Homeowner dropped the mortgage money on a poker table.
Today's New Democrats must feel the same way, as they continue to allow gambling revenues to swell government coffers by $1 billion or so each year. (Non-profit community groups usually get about $140 million.) What a relief. Glad those families are OK.
But I digress. We're supposed to be talking about the barrage of gambling commercials during hockey (and basketball) games. It's pretty weird to see the NHL, which once shunned gambling the way Grapes shunned grammar, now embracing it as tightly as Draisaitl hugged McDavid after the Battle of Alberta.
There are ads on your screen, ads in the stands, ads on the ice. Wayne Gretzky is pushing BetMGM, which on the Surprise-O-Meter ranks with running into Stephen Harper at Burning Man.
You (and your kids) hear the same message after every whistle: gamble, gamble, gamble.
Think I'll crack a beer.