While traditional farmhouse rooms are small rather than spacious, there is plenty of outdoor space to enjoy the hazy, lazy Provencal summers. It includes a pool and a charming courtyard, with an outdoor sitting room and kitchen.
The six rooms are all special, some overlooking the medieval abbey. The one Nicolas designed for himself has a bath in the bedroom. Marie's, in rose and terracotta, has a private terrace and a boudoir just big enough to hold an antique dressing table.
The room she covets, though, really stands out with its yellow walls and an enormous golden-leaf motif headboard. "I wish this one were mine," she sighs, adding that although she chose the fabrics, the mirror came from a former hotel; Jocelyne picked the armchair and Nicolas bought the lamp. The result is a gorgeous example of how the Sibuets collaborate on their projects.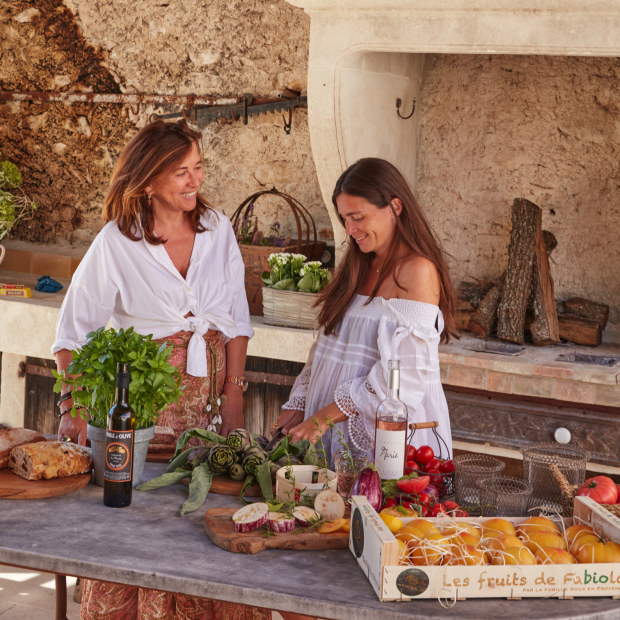 Theirs is a family saga that started in the 1980s, almost 400 kilometres from Menerbes in the chocolate-box-pretty ski resort of Megeve, first made popular by the wealthy Rothschilds.
It was here that Jocelyne and her ex-husband, Jean-Louis, decided to create something totally different at the time – a hotel made from a hamlet of chalets.
After buying and dismantling old haylofts, granaries, barns and stables in the surrounding countryside, Jean-Louis crafted a new jigsaw from the pieces. Meanwhile, Jocelyne designed the rustic-chic interiors using wood, stone and oodles of flair.
The hamlet grew over time, adding a 10th chalet this season to its 70 rooms, restaurants, kids' club and ski shop. It is also home to a sleek spa with Japanese baths, two pools, and blissful therapies using the Pure Altitude product range developed by the talented Jocelyne. The range incorporates the rejuvenating qualities of the mountain flower edelweiss.
A five-minute stroll along the river into town and you reach the legendary Mont Blanc hotel, the family's next project in Megeve, which they bought in 1994. This hotel was made fashionable by French author and artist Jean Cocteau and his friends in the 1950s. Its decor plays on its name and its history.
The lounge is a symphony in white and the spa reminiscent of an igloo. But Les Enfants Terribles restaurant features Cocteau's original artwork behind the bar, his trademark designs carved into the ceiling, and photographs of visiting movie stars on the walls.
It couldn't be more different from Lodge Park, the Sibuets' third hotel in Megeve. With its animal hides and heads, tartan wallpaper and chunky log furniture, Lodge Park feels like a mash-up of a Canadian trapper's lodge, a Scottish baronial mansion and an Out of Africa film set. It's eclectic but it works.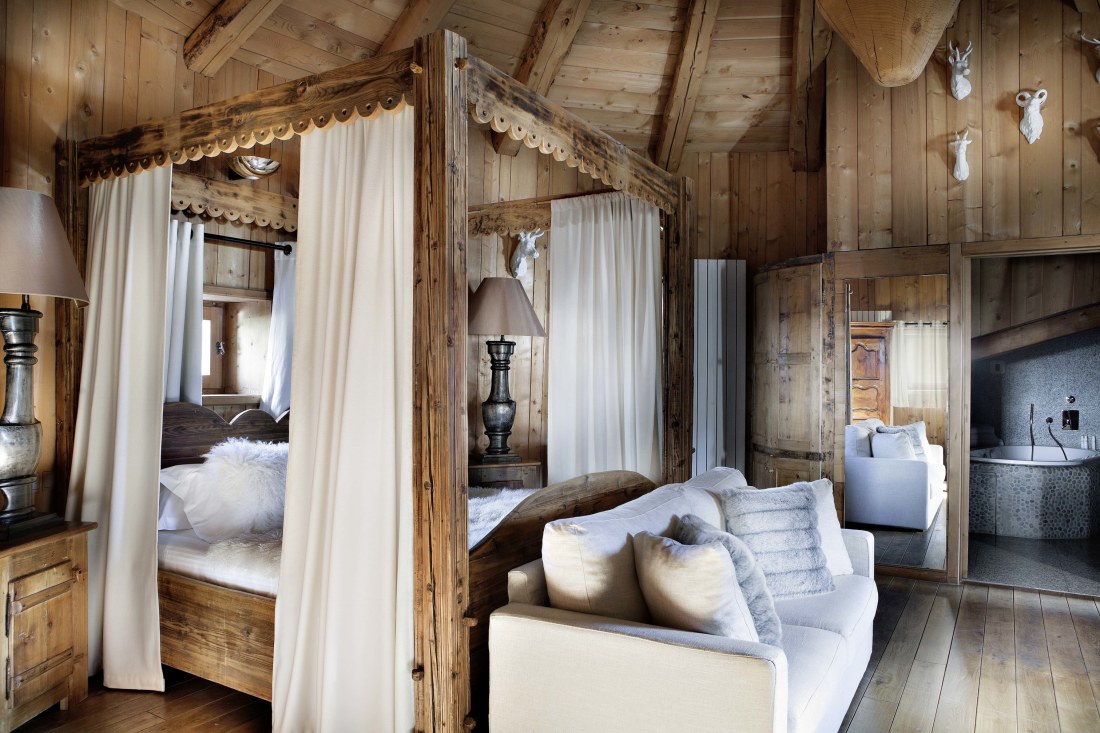 Beyond the trio of hotels, you're never far from the Sibuet influence in this chi-chi alpine town. Even the local McDonald's looks like a ski chalet, with an open fire within. The window of the pharmacy showcases Pure Altitude's spa products, while just down the street is the family-owned L'Epicerie.
It sells everything from local cheese to a tea for each hotel in the group. That includes a peach, apricot and lavender variety for La Bastide de Marie, which the Sibuets bought with an adjoining vineyard in 1999.
Back at Les Fermes de Marie where it all started, it feels somewhat surreal to be sitting outside with its namesake, sipping a glass of Domaine de Marie rosé as I tuck into a dish of pasta with truffles. Like the hotel, the food is superb in its simplicity.
"I grew up over there," says Marie, gesturing to the five-bedroom Chalet des Fermes des Marie. It's one of a dozen private-hire properties scattered through Megeve that her husband, Maxime, now manages.
She never intended to go into the family business. But, like her brother, she worked her way up so that when the company CEO left, they took over together. Now, Nicolas' partner works with them too. Do they all get on, I wonder? "We fight but we make compromises," Marie smiles. "My mother has the experience and I have new ideas, and we try to make it fit. We all have the same tastes."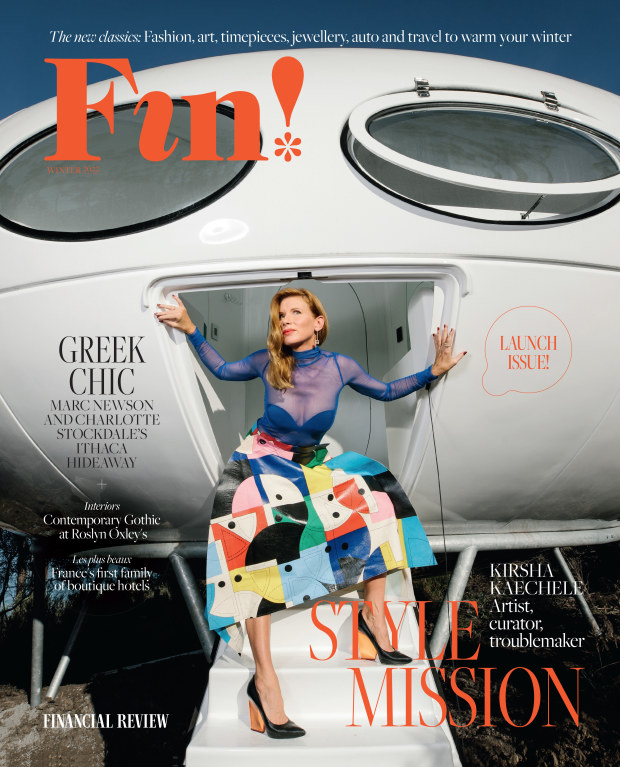 Although her parents are no longer involved in the day-to-day running of the company, the family makes decisions together. In 2019, when they bought Le Mas, they decided to sell several hotels in a group that had grown to 13, so they could concentrate on their core properties.
"We had to choose between developing the company and buying new hotels with investors or focusing on fewer places," says Marie. "We wanted to work with emotion, not figures."
The next chapter in the Sibuet saga lies amid the rolling hills of Provence, where they aim to develop more land on an adjoining property they bought at the same time as Le Mas. Here, they plan to create a family-friendly hamlet with about 15 rooms, a pool and spa as well as a farm to supply an estate-to-plate restaurant in the wine cellar.
"We introduced guests to the art of living in the mountains, and now we're doing it in the Provencal countryside," says Jocelyne. That means experiencing the joys of cycling through fields of lavender, visiting local markets, going truffle hunting and visiting the winery, which produces 90,000 bottles of red, white and rosé a year.
And if you're interested in being a guest in her own home in Menerbes, the four-bedroom Villa Syrah, she says it's only a matter of time before it, too, joins Le Mas as an exclusive hire-let.
Fine details
Seven nights at Le Mas from $11,265 including breakfast, afternoon tea and concierge services.
The house can sleep up to 12 people across six bedrooms.
All based on twin-share, rooms at La Bastide de Marie start from $679 a night, half-board, with drinks at dinner. Rooms at Les Fermes de Marie start from $600 a night in summer and from $980 a night in winter, both B&B.
For more information, see the Sibuet website.
The writer was a guest of Maisons et Hotels Sibuet.
social experiment by Livio Acerbo #greengroundit #travel #tours – original source here