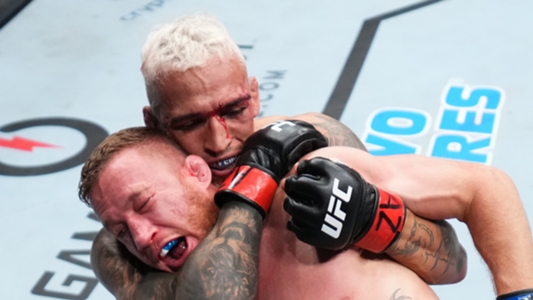 Charles Oliveira makes Justin Gaethje tap to rear-naked choke in first round
Gaethje with some big leg kicks to start, but Oliveira seems to hurt him with a right hand. Now, an uppercut from Gaethje knocks Oliveira down. Moments later, a left hook-right hand combination puts Oliveira back down on the canvas. Gaethje is loading up with that leg kick, looking to obliterate Oliveira and break him down. They exchange shots in close quarters. Straight right blasts Gaethje and he's down with a thud! Oliveira has Gaethje's back. He has Gaethje's arm. He's got a triangle cinched in. Gaethje frees himself from the triangle, but Oliveira cinches in a rear-naked choke. Gaethje is in a world of trouble, and he taps. It's over! The submission comes at 3:22 in the opening round. Make it 11 in a row for Oliveira.
Here comes "Do Bronx"
Oliveira enters with the most submission victories in UFC history, although he's vacating the lightweight title due to his failure to make weight.
Gaethje makes walk to the Octagon
"The Highlight," who's never in a boring fight, is looking loose yet focused on the task at hand.
Glover Teixeira vs. Jiri Prochazka announced for UFC 275
The event will take place June 11 with Teixeira's light heavyweight title on the line.
Main event time
Deflated from the low-action co-feature, Charles Oliveira and Justin Gaethje will look to bring it in the main event moments away. A win from Gaethje, and he'll be crowned the new lightweight champion of the world. If Oliveira wins, though, he can only be named the No. 1 contender for the lightweight title as he's vacating the strap due to coming in overweight twice Friday.
Carla Esparza takes split decision, wins strawweight title
Judges score it 48-47 for Namajunas, 49-46 for Esparza, and 48-47 for your winner and new strawweight champion of the world, Carla Esparza. Namajunas has got to be kicking herself. She was clearly the more athletic fighter but noticeably held back. Any time Esparza took her down, Namajunas wriggled free, preventing any control time and getting back on her feet unscathed. Namajunas landed that right hand but never capitalized on it. Disappointing all around. That was one of the most uneventful title fights you'll ever see. Anyhow, Esparza takes the split decision and becomes the new champ a week away from her wedding, so a celebratory time for her nonetheless.
Also:
Namajunas-Esparza; Round 5
This fight has been low action and frankly uneventful through large stretches. Namajunas needs to come alive with her offense and really let her hands go, or she could wind up losing the title and kicking herself for it. Namajunas lands a right hand. Esparza returns fire seconds later with a front kick to the body. Namajunas with another right hand, and Esparza returns the favor with a left hand the other way. We're at the three-minute mark now. Stiff left lands for a lunging Esparza. Halfway through this fifth and final round. Stinging right hand from Namajunas, who has a distinct edge when it comes to her striking game, but she's inexplicably not taking full advantage of it. Ninety seconds remaining. The champ presses forward with a double jab but is still taking it easy. Does she think she's comfortably ahead in this fight? Namajunas peppering the jab, changes levels, and scores a takedown herself during the waning seconds. The final horn ends a very low-action, disappointing title fight. (10-9 Namajunas, 48-47 Esparza)
Namajunas-Esparza; Round 4
Namajunas tags Esparza with a right hand. She's flicking out that jab but not landing it. Esparza manages another takedown and tries to take Namajunas's back, but the champ winds up wrapping herself around Esparza's back, and they're both up on their feet. Esparza fakes a takedown attempt by shooting at the champ's legs before peppering her upstairs with a couple of shots. Namajunas with a crisp right hand. Why the champ didn't follow that up is anyone's guess. Moments later, Esparza scores another takedown. But Namajunas wriggles free and connects with a big right hand. Thirty seconds left. (10-9 Esparza, 39-37 Esparza)
Namajunas-Esparza; Round 3
Action has got to pick up from both fighters. Esparza grazes Namajunas with a front kick. And Esparza goes for a takedown and gets it this time. Namajunas does a good job to get back on her feet. Esparza peppers Namajunas with a left jab. Namajunas with a nice uppercut seconds later. Halfway mark of the round. Not much is happening at the moment. Ninety seconds left. Esparza goes for Namajunas's leg, but the champ is able to free herself. Namajunas grazes Esparza with a right hand. But let's make this very clear — not much has happened through three. (10-9 Esparza, 29-28 Esparza)
Namajunas-Esparza; Round 2
Esparza shoots at around the 3:30 mark, grabs a leg, and threatens a takedown, which Namajunas does a great job at stuffing. They're back on their feet, measuring each other up. The pace has quickened but this bout remains low action with about 90 seconds left in the round. Crowd with big boos as Namajunas backs up, circles around the Octagon, and assesses things. Less than a minute left. Uneventful thus far. Left hand connects for Namajunas. Esparza with a leg kick that lands, and the crowd sarcastically doing the wave in mock celebration. Front kick to the body lands at the buzzer from Esparza as well. Again, though, low, low action so far. (10-9 Esparza, 19-19)
Rose Namajunas vs. Carla Esparza; Round 1
Namajunas repeatedly said, "I'm the best, I'm the best" during her walk to the Octagon. She'll try to back those words up tonight. Early on, Namajunas is noticeably sporting rounded shoulders, bent and hunched nearly at the waist, seemingly preparing for a level change from the shorter Esparza. Not much action three minutes in as the crowd is getting restless. There's a one-pointed jab from "Thug Rose" immediately causes swelling. Esparza presses forward and grazes Namajunas with a right hand with just under a minute left. Namajunas caught Esparza with a couple of stiff shots. But very little action this round, making it hard to score. (10-9 Namajunas)
Co-main event on deck
Former strawweight world champion Carla Esparza takes on current division champion Rose Namajunas next.
Congrats to Daniel Cormier on being inducted into the Hall of Fame
Chandler spews some venom for Conor McGregor
Chandler is pretty comfortable on the mic. After his knockout of the year candidate, Chandler calls out whoever wins the main event between Charles Oliveira and Justin Gaethje tonight. However, he added that if UFC president Dana White has any lapse and doesn't make him the No. 1 contender for the lightweight title, he's more than willing to fight McGregor, adding that the Irish superstar has to fight somebody.
Chandler knocks Ferguson out cold with front kick!
Oh my goodness! Seventeen seconds into the second round, Chandler blasts Ferguson with a front kick, and "El Cucuy" is knocked out cold at the point of impact! Right up the middle, detonating on Ferguson's jaw. It almost looked like a football field goal kick.
Brutal knockout! Joe Rogan calls it the best front kick to the face of all time. An instant KO of the Year candidate and possibly frontrunner.
Action-packed first round
Ferguson drops Chandler with a straight right-left combination. He pounces and lands another shot which hurts Chandler. Ferguson's reach is already effective. Just as I'm saying that, Chandler digs within that reach and scoops and slams Ferguson with a big takedown. A fallen Ferguson catches Chandler with one of his vaunted slashing elbows. Chandler is leaking. Chandler frees himself up to rain down with some solid punches. He's still on top of Ferguson looking for more. Wild first round.
Michael Chandler vs. Tony Ferguson up next
This one should pack plenty of action. Ferguson is trying to snap a three-fight slide. Chandler is trying to end a two-fight skid. Ferguson has a five-inch reach advantage. Let's see if he could use it to his advantage.
OSP grabs split decision
Heavy bombs traded between Shogun Rua and OSP all fight. Saint Preux pounded Rua with big body kicks and piercing straight right hands. Rua had success with his leg kicks and some punches when able to get inside. But OSP dictated a bit more of the action in the third and final round and judges saw it that way. They score it 29-28 for Rua, and 29-28 and 30-27 for OSP.
That's 2-0 for Ovince Saint Preux over Rua.
Light heavyweight action on deck
Ovince Saint Preux vs. Mauricio Rua is upon us. Saint Preux is trying to snap a two-fight skid. Rua, too, is trying to rebound from a loss, as he was last defeated in November 2020 via a second-round stoppage loss to Paul Craig. These two aren't strangers, as Saint Preux knocked Rua out in 34 seconds back in November 2014.
Israel Adesanya vs. Jared Cannonier to headline UFC 276
The UFC just showed an excellent spot highlighting all the otherworldly striking skills of Israel Adesanya, who will put his middleweight championship on the line against Jared Cannonier to headline UFC 276 during International Week in Las Vegas.
Cannonier can't wait!
On the same card, Alexander Volkanovski will face Max Holloway in a trilogy bout with the featherweight title at stake.
#model #modeling selected by Livio Acerbo – original source here