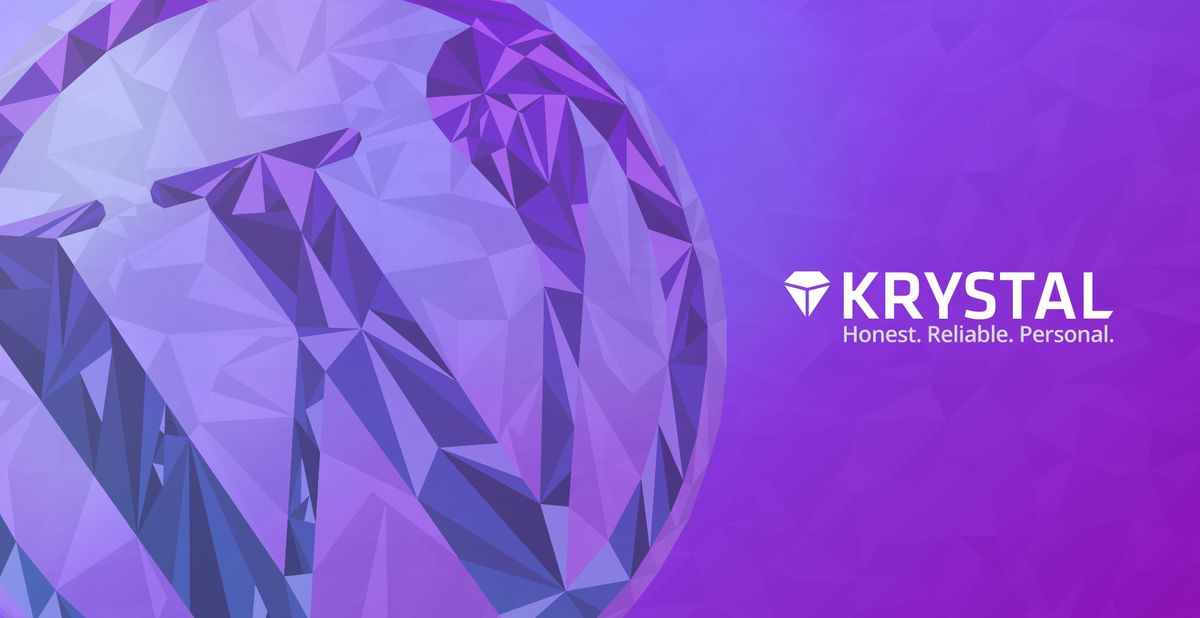 Since launching in 2003, WordPress has established itself as the world's go-to Content Management System (CMS). From personal blogs to business websites, WordPress can power all kinds of online content with minimum hassle.
However, carving out your own dedicated space on the internet involves more than simply buying a stylish domain name. You also need to decide on a hosting provider, install WordPress and create your design. Once you've taken care of these, then comes perhaps the most important part – managing and maintaining your website. This includes keeping WordPress and all installed plugins fully updated, and ensuring the security and integrity of your new site against attackers.
Launched in 2002, Krystal has grown into the largest independent hosting company in the UK. Over the past 17 years, it has remained true to its creed, providing an honest, reliable and personal service to all its customers. This is reflected in its transparent billing policy, which has no hidden extras or surprise renewal prices, as well as its award-winning in-house support that provides expert assistance over live chat, email or phone.
Krystal offers a fully managed WordPress hosting service called Onyx, providing a flexible, scalable platform to help you host your WordPress website.
What is managed hosting?
When you purchase a managed WordPress hosting plan, you get a range of additional services on top of your space and bandwidth. You can receive assistance when carrying out maintenance of your website, from trusted professionals. Whether it's performing timely backups or installing security updates, the trained experts of Krystal are ready to help.
There are increasing reports of websites being maliciously targeted and DDoS attacks are on the rise. Therefore it pays to have the safety and integrity of your website in the hands of professionals. By using WordPress hosting specialists, you'll also have the advantage of being able to easily scale your website and attract more visitors as your business grows.
Why choose Onyx?
While there are many vendors that provide managed WordPress hosting, Krystal's Onyx platform stands apart because of the quality and range of its offerings.
Let's take a look at five key features that make Onyx the ideal choice for hosting your WordPress website.
1. Free migration of your WordPress website
As with any other CMS, migrating a WordPress website is an involved process. At a minimum, you have to make a secure copy of all configuration files and databases and safely move them to the new host. Any misstep during the copy of a configuration file or database can result in loss of critical information or a broken installation that might be difficult to diagnose and rectify.
While WordPress provides plugins to help make the process easier, it's still a lot of work, especially if you've never done it before.
Krystal's Onyx platform offers a number of choices to help make the process hassle free. From the Onyx interface you can use the Import tool to migrate the site in via SSH. If SSH isn't an option for whatever reason, theirteam of WordPress experts will migrate the site in for you, regardless of where it's hosted currently – usually within 24 hours.
If you already have a site on another host, chances are that you also have an associated email address. If so, you can use Onyx's KARMA utility (Krystal Automatic Retrieval & Migration Assistant) to migrate your IMAP mailbox into their optional mail add-on which runs alongside your Onyx deployment. This means your email is safely and seamlessly transferred so you can continue doing business without interruption.
2. Award-winning in-house help & support
Transparency is a key part of the Krystal ethos. As an independent hosting business, Krystal cherishes the value of relationships. This is why instead of being outsourced like many of its peers, all Onyx support is managed in-house.
In fact, the Krystal website provides a running record of all help requests received over the past seven days. Stats include the average time of support calls, the average duration of chats and more pertinent details to show that the company cares about each of its customers. No matter your chosen plan, you can ask for guidance, help and support by either raising a ticket, or using the live chat option.
You'll also find a host of articles discussing the features offered by Onyx on its dedicated Help portal. These are split across different categories such as Getting Started, Web Hosting, Migration, etc.
Whether it's a query about a WordPress or PHP setting, or advice on the best hosting plan for your website, you're never alone on your journey to creating the ideal WordPress website for your needs.
3. Retain complete control
Just because it's a managed WordPress installation does not mean that you surrender control over your website. You are free to choose which theme to install and which plugins to use with Onyx. Without restrictions on the types of plugins, you can mould your WordPress site into a content-serving masterpiece that's suited for all manner of audiences.
This is in contrast to many other WordPress hosting platforms which restrict various plugins for a variety of reasons. For example, even though automatic off-site daily backups (even hourly on some plans) are included as part of your Onyx package, you can still perform routine backups using WordPress plugins.
4. Fully managed deployment
Onyx provides a choice of four different plans for your WordPress deployment. The plans describe the amount of storage space available to you and the number of websites you can host. Each site is fully scalable and will give you as much CPU and RAM as the site needs in order for it to perform at its best. Onyx deployments are on NVMe SSD storage devices which further boosts the performance of your managed websites.
Your chosen hosting plan defines the number of monthly visitors per site. Onyx relies on soft limits and informs you when you're about to reach the visitor count limit for your chosen plan. A higher visitor count to a website is always a cause for celebration rather than worry, which is why Onyx also doesn't charge for any 'overages'.
5. High availability
The advantage of having an online presence is that the internet never sleeps. It makes little sense therefore to have a website that isn't accessible by all users at all times. High Availability (HA) is a term that describes a website with maximum potential uptime and accessibility for the content served by it. Whether you're a business owner or a professional design agency, you can't afford any downtime for your website.
High Availability (HA) works by careful use of three techniques: redundancy, monitoring and failover. In simple terms, a HA system works by having more components or resources than it needs. It regularly monitors the use of these components or resources and ensures each is performing optimally. Should one fail, it automatically switches to another.
All Onyx deployments are guaranteed HA with the use of shared storage architecture, site data replication and load-balanced containers which ensures that no component is overloaded to the point of failure. This optimum use of resources is how Onyx is able to provide super-fast performance with great uptime.
Even more reasons to choose Onyx
Still on the fence about using Onyx to host your WordPress website? There's even more on offer with each plan.
Onyx also provides a free SSL certificate with every plan. This means that your Onyx-hosted website will not show any errors should users attempt to access it by using https:// in the URL. Most common browsers will now display warnings on a majority of non-SSL websites, so a website that lacks one is most likely to frustrate visitors.
Depending on your chosen plan, Onyx will also automatically perform daily or even hourly backups of your website. All Onyx plans also come with DDoS protection to further ensure maximum uptime of your hosted WordPress website.
Onyx also utilises LiteSpeed ADC caching by default to ensure quick response times. Caching means that the server keeps copies of all the pages it serves to visitors. When a cached page is requested again, the cached copy is served instead of loading the page afresh. This results in a much faster user experience for visitors to your website. Even apart from all that, Onyx-hosted WordPress websites are twice as fast as most other competitors and capable of handling over 1,300 requests per second.
Depending on your chosen hosting plan, Onyx also provides a Content Delivery Network (CDN), which means that cached copies of your website are stored in a geographically diverse set of servers, and served to visitors from their nearest CDN node. This results in even faster response times for visitors all over the world.
Okay, we did initially say five, but as you can see there are in fact many reasons why Onyx is the best WordPress hosting platform out there. Find out more, and try it free for a month with no pressure to continue, by visiting krystal.uk/wordpress-hosting today.
social experiment by Livio Acerbo #greengroundit #techradar https://www.techradar.com/news/onyx-from-krystal-is-setting-the-new-standard-in-managed-wordpress-hosting