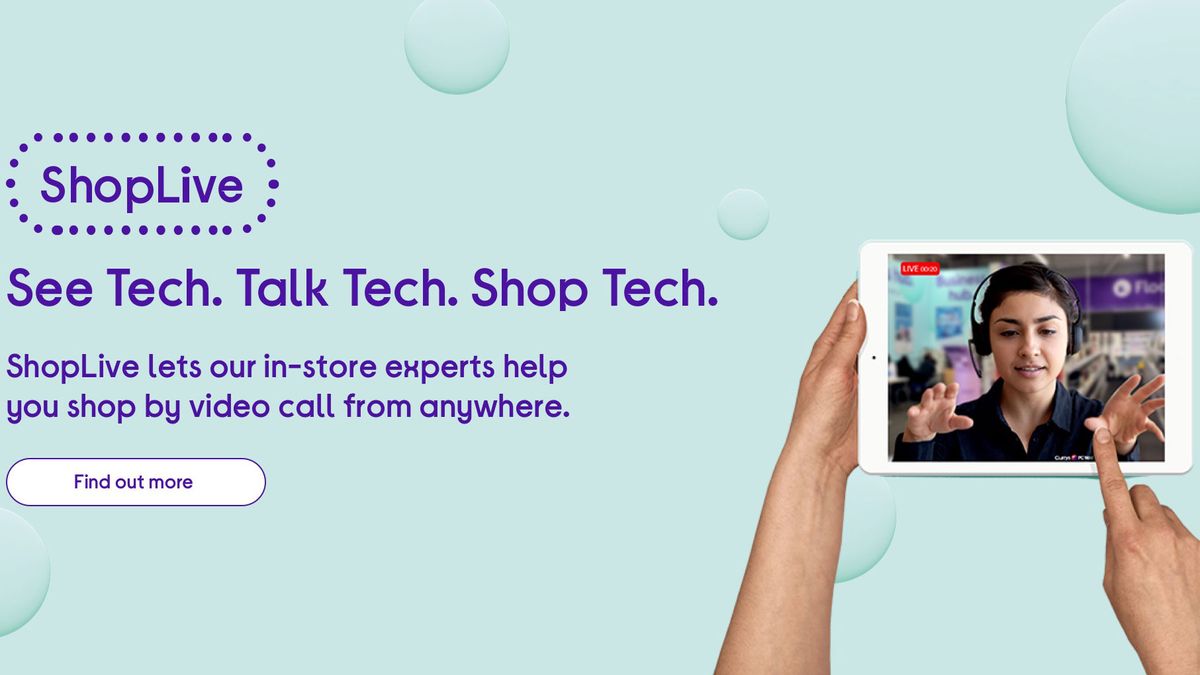 Buying electrical items can be confusing. Laptops, Smart TVs and even home appliances now come with what can feel like an avalanche of acronyms, and if you're not someone who follows tech all the jargon can be rather intimidating.
That's why Currys' new and free ShopLive service is so brilliant. It connects you with an expert adviser who really knows their stuff, and who can help you find the product that's right for you.
Whether you're buying a computer, a cooker, a coffee machine or a camera you'll wonder how you ever shopped online without it.
Bring the shop to your sofa
ShopLive brings the expertise of Currys' in-store advisors to wherever you happen to be, whenever you need their help: the service is available 24 hours a day.
All you need is a microphone, or a device that's got one – so your tablet, smartphone or laptop should work just fine.
To use ShopLive, simply browse the Currys' website and you'll see a popup asking if you need any buying advice. If you do, ShopLive will start a one-way video call with one of Currys' experts.
It's safe, secure and you don't need to download any software or install any apps, and because it's a one-way call you can see your expert but they can't see you.
Help when you need it
One of our favourite things about ShopLive is that you can get really helpful advice when you're not really sure what you want.
For example, if you're thinking about a new oven, a new TV or a new laptop you can have a chat with your ShopLive advisor to talk about the features that matter most to you and then explore the options. The ShopLive advisor isn't there to give you a sales pitch; they're there to help you work out what will suit you best.
Let's say you're considering a new home appliance. Do you really need Wi-Fi in a washing machine? Will a steam oven be better for your baking? Will a bigger fridge mean bigger electricity bills?
ShopLive can help you with all of these things and more, and once you've worked out which features actually matter to you your expert can help you identify the most suitable products.
It's the same with Smart TVs and other technology. Instead of just presenting you with a long list of specifications and abbreviations, ShopLive enables you to have a chat with someone who can explain everything in plain English.
Will that screen technology make movies more magical? Do these models have iPlayer and Netflix? Are there enough free connections for the kids' consoles?
An end to alphabet soup
ShopLive is particularly useful when you're thinking about a new laptop, because online shopping for those can be jargon central: if you're fluent in the language of "Core i5 / 8GB / 1TB SSD / GeForce 2GB" then that's great, but many of us could use a little help with the translation.
With ShopLive you can get sensible answers to the sensible questions – is this one fast enough to edit home videos? I take loads of photos, so is that enough storage? What speed do I need for the kids to play Fortnite? Will that one dislocate my shoulder if I carry it on my commute? – that online shopping often doesn't answer.
A nicer way to shop
If this all sounds rather like going into your local Currys, that's the whole idea.
ShopLive is designed to give you the same friendly, helpful advice you'd get from a face-to-face chat with one of Currys' expert advisors. And it does that by putting you in contact with one of those very same expert advisors.
You get the same friendly welcome, the same undivided attention and the same expert advice. The only difference is that with ShopLive, you can get all of that without having to leave the sofa – and you can do it at any time of the day or night.
Currys ShopLive is a very high-tech way of delivering something really old-fashioned: great customer service.
social experiment by Livio Acerbo #greengroundit #techradar https://www.techradar.com/news/shopping-for-tech-get-an-experts-advice/