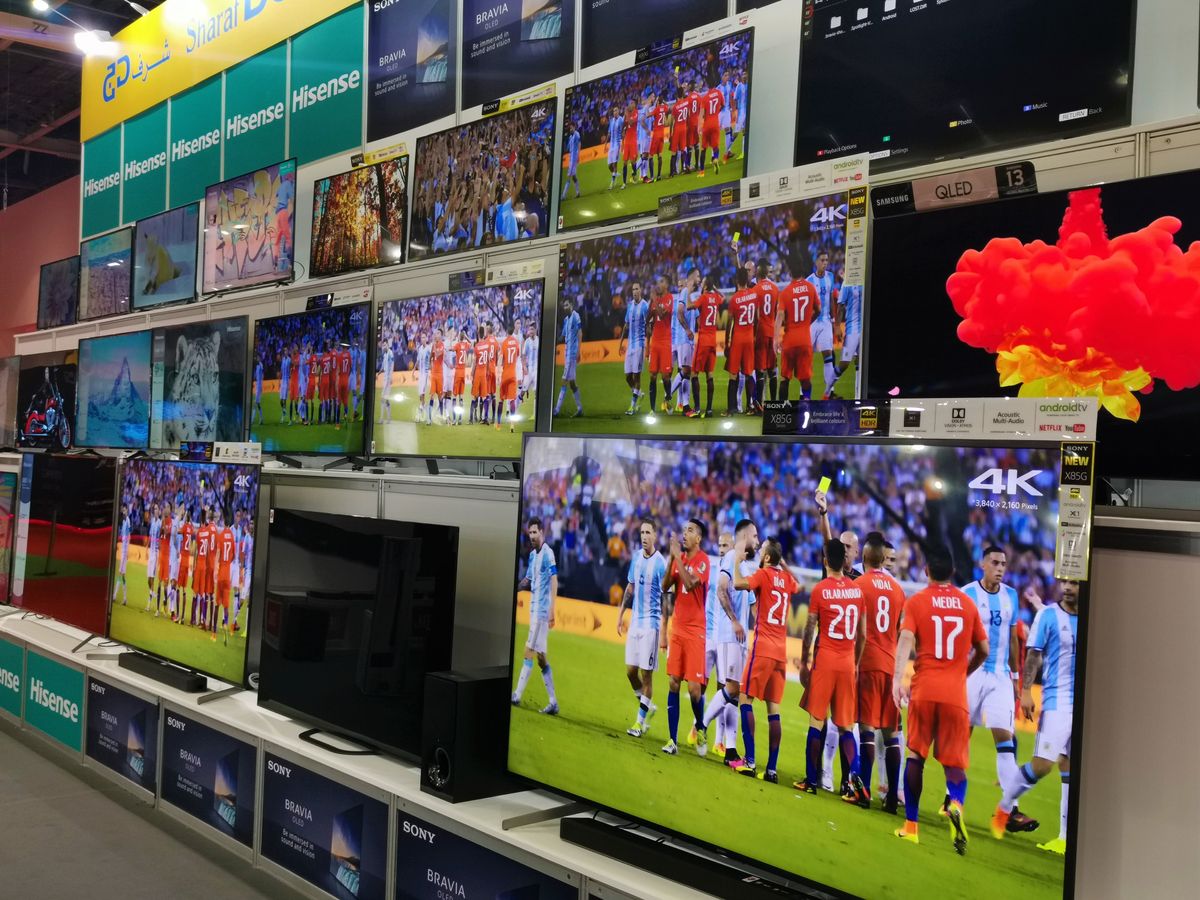 If you are planning to buy a TV, this is the best time to buy as it is a buyers' market.
While Gitex Shopper is taking place, other online retailers such as Noon.com is having its Big Yellow Sale, LuLu 's Digitech and Amazon's Tech Bazar simultaneously.
Isam Arshad, research analyst at Euromonitor International, said that the TV market is not growing in the UAE this year.
Even after the prices of OLED TVs have come down, he said that it is still expensive.
"As a lot of expats are leaving and going back, they are selling their TVs online. So, the second-hand TV market is huge and growing faster than the first-hand sale and people can get it at almost half the price on certain models," he said.
Deepak Babani, executive vice-chairman at Eros Group, said that there are multiple reasons for the fall in TV demand.
"Most people are using mobile phones to watch TV content. People buying multiple TVs for their homes are shrinking. The need for a replacement is limited as long as you have a 4K TV. The price difference is higher and the picture quality is negligible," he said.
South Korean TV manufacturer – LG – has been out of the market this year and Babani said that the impact hasn't been felt at all.
"The demand is very subdued and people are ready to take whatever brand is available. The price drops are severe due to a fall in Chinese TV panel exports to the US, so there is an overproduction of panels," he said.
Pankaj Kumar, head of omnichannel retail at Jumbo Electronics, said that TVs are in better position than last year. Last year, he said the fall in value used to be in double digits but this year, it is in single digits.
It is the best time to buy #TVs as prices have dropped drastically at #Gitex Shopper @GITEXShopper #electronics #GITEX2019 pic.twitter.com/s6feUjVbGkSeptember 26, 2019
Wearables are fastest growing category
Then the next question arising is which segment is growing among the consumer electronics this year.
Arshad said that smartwatches are the only category that is growing the fastest this year, followed by smartphones.
Smartwatches, including smartbands, is growing for health and wellness reasons, fuelled by Apple, he said and added that it is expected to grow by 10% in value this year.
According to research firm International Data Corporation, the top five companies – Xiaomi, Apple, Huawei, Fitbit, and Samsung – continued to push forward with new products and promotional campaigns during the second quarter, collectively capturing 65.7% of the market, an almost 12-point gain from last year.
The total market in the second quarter increased by 28.8% to 34.2m compared to 26.6m a year ago.
However, Arshad said that mature products such as laptops, digital cameras, and LCD TVs will be benefitting from manufacturers' push for premium features and technological improvements. The category taking the biggest hit in value is the imaging devices by 13%, followed by laptops by 5% and LCD TV by 2%.
"TVs and laptops are not going away anytime soon, as the products' relatively high prices help companies maintain their profit margins and revenues despite selling fewer units than portable consumer electronics," he said.
Online retailing revs up
For 2019, the overall consumer electronics market is expected to reach AED 14b in value compared to AED 13.4 billion last year. Out of this, online retail is expected to be worth AED150m.
"Yes, internet retailing is the fastest-growing consumer electronics retail channel for 2018-19 GR at 12%. Internet retailing will account to be 23% of all retailing by 2024 for consumer electronics," he said.
Furthermore, he said that online is growing in double digits and the UAE market is more dependent on online rather than brick and mortar sales.
"If the internet was down for a day, online retailers will lose millions. That is the state of the market. People are buying even groceries online. Going to a mall or retail store to buy consumer electronics is a painful and stressful routine.
"Online purchasing makes it easy and consumers have deep trust in online purchasing due to the excellent service. Online retailers are ready to take back the product, without any questions asked, even if you have used it. Just go online and click for return. They will come to your home or office and take the product," he said.

social experiment by Livio Acerbo #greengroundit #techradar http://www.techradar.com/news/second-hand-tv-sales-are-huge-and-growing-faster-than-first-hand-in-uae