Google's quest to build a smartphone as popular as the latest iPhone and Samsung Galaxy took a massive step forward when the original Google Pixel launched last year. Its successor – the aptly named Google Pixel 2 – is now on the shelves.
But the high pricing of last year's model meant that sales weren't a shade on the flagships it was meant to compete with. The Pixel 2 starts a tad more expensive, but substantially more affordable than the likes of the Galaxy Note 8 and iPhone X. This is a phone for Android lovers who want the purist interface on the market – even if it does only look like an incremental update from the original Pixel.
Read on to see exactly how much you'll have to pay for your new Google phone with our Pixel deals comparison chart. Plus, we have information on the prices you should expect for the Pixel 2 XL that will be available from November 15 – you can pre-order it today.
Need some more convincing? Our exclusive 10OFF voucher code with Mobiles.co.uk knocks a tenner off the upfront cost of any deal. While Carphone Warehouse is throwing in a Google Home Mini worth £49 with every order.
More options: Samsung Galaxy S8 deals | Samsung Galaxy Note 8 deals | iPhone 8 deals | Google Pixel and Pixel XL deals | SIM only deals | Best mobile phone deals 
The best Google Pixel 2 deals in the UK today:
We've scoured the UK's networks and retailers to home in on the best Pixel 2 deals. You can get the new Google smartphone on O2, Vodafone or EE – the choice is yours…

The best Google Pixel 2 XL deals you can pre-order today:
Want that bigger QHD+ screen? Go for the Pixel 2 XL instead if you plan to use your phone to stream films and TV. But you'd better be prepared to pay for the privilege – the price really shoots up, as there are fewer retailers competing on price. Plus, you have to wait an extra month for stocks to arrive.

Google Pixel 2 deals for SIM-free: how much does the phone cost?
Get out your calculator and dust off the abacus – if you want to bag the very best price on the Pixel 2 then buying the handset outright and combining it with a SIM only deal may save you some £s.
The Pixel 2 costs £629 and the Pixel 2 XL will be £799. Considering that the cheapest SIM out there costs a mere £3.99 per month, that's less than £100 for the two year term and so will potentially give you plenty of change from £750 over two years if you go down that road. That's a pretty decent saving on the first set of prices to filter through.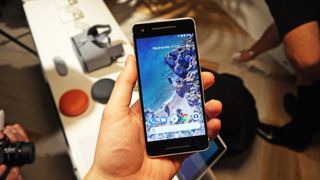 Google Pixel 2 review in brief
Amazing Android, especially for photo lovers
Screen size: 5-inches | Resolution: 1080 x 1920 | Rear camera: 12MP | Weight: 143g | OS: Android 8 Oreo | RAM: 4GB | Storage: 64GB/128GB | External storage: No | Battery: 2700mAh
Market leasing cameras
Clean Android interface
Water resistant
Lots of bezel
There's no doubt that the Pixel 2 is one of the very finest Android phones out there, but the Pixel's successor is a familiar story of incremental improvements rather than whole-scale change. The feature that might just get you buying are the top-of the-line cameras for photos and video. While the delightful screen, great-sounding speakers and slick Android operating system will all appeal to a range of smartphone users.
Read TechRadar's full Google Pixel 2 review
Read TechRadar's full Google Pixel 2 XL review

social experiment by Livio Acerbo #greengroundit from http://www.techradar.com/news/google-pixel-2-deals